Accessible communication: How to develop educational materials using easy-to-read language?
Accessible communication: How to develop educational materials using easy-to-read language?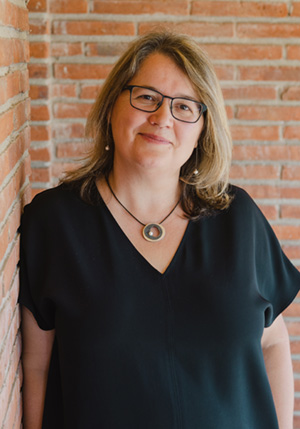 Could you briefly introduce yourself and tell us more about your institution and experience in the Erasmus+ programme?
I'm Anna Matamala, an associate professor at the Universitat Autònoma de Barcelona, where I lead the TransMedia Catalonia research group (TMC). Our university is one of the major public universities of Spain. TMC is a research group from the Department of Translation, Interpreting and East Asian Studies researching audiovisual translation and accessibility since 2005. We have developed many research and educational projects in this field. In terms of Erasmus + programme, our interest lies in defining and providing training opportunities for new professional profiles in accessible communication and in integrating accessibility in different settings. We started being partners in the ADLAB and ADLAB PRO projects (on audio description), we led the ACT project (on accessibility for the scenic arts) and we also participated in LTA (on real-time subtitling) and IMPACT (on digital accessibility). We lead EASIT (on easy-to-understand language) and we are currently involved in IDEA (on accessible digital e-learning) and YoungarcHers (on accessible heritage).
EASIT project follows the motto nothing about us without us. With that in mind, can you tell us more about the target groups of your project and ways in which they were included in project activities?
We adopt a capability-based approach, rather than a disability-based approach, so our aim was to address a wide range of participants. In terms of persons with reading difficulties, two key partners were Dyslexiforbundet, the Swedish Association of Dyslexia, and Zavod RISA, a Slovenian association of persons with cognitive disabilities. They were very active in involving users from their associations in our project, when creating materials or offering events. For example, we have created many educational videos and users are given voice in many of these through interviews. Another interesting aspect is that we have created a website in Easy Language which was validated by persons with cognitive disabilities. It is not common to find a European project website written in Easy Language and we wanted to show how this could be done. At the end of the project, we also published an easy-to-understand summary of all the results on our website.
Together with your partners you developed a wide range of different project results – survey, recommendations, OER, curriculum etc. Can you tell us more about the content of these results and who they are intended for?
We have developed different outputs: there is a report on a survey that maps easy-to-understand language practice and training across Europe, based on the replies of 128 experts. This may be useful for anyone interested in easy-to-understand language, both from an academic and professional perspective. EASIT also developed a list of recommendations on how to create easy-to-understand subtitles, audio descriptions and news, based on interviews and focus groups with experts, which may be of interest for professionals and industry representatives wishing to expand their access services. The project also identified the skills and competences of the professionals who would create these access services and developed a proposal for a university curriculum and for a MOOC (Massive Open Online Course) together. EASIT also identified how these skills could be certified. In this case, this could be useful for universities, institutions and trainers but also associations wishing to offer non-academic training. Finally, the main output EASIT generated is the EASIT platform. It is an open-access platform which contains a wide array of training materials such as videos (142), slide presentations, reading lists, suggested tasks and questionnaires. For all the videos we created transcripts in English, audio-only versions, subtitles in English and also in some other languages. These materials are useful for learners who want to create their own self-learning path and for trainers who want to integrate these materials in their classes. To this end, the platform also includes a trainers' guide.
Through your project you are addressing the issue of content accessibility. How did you recognise the importance of creating content that is easy to read and understand?
At TransMedia Catalonia we have been researching audiovisual translation and accessibility for a long time now. At the beginning we focused on access services that provide access to the audio (subtitling) or the visuals (audio description) but soon realised that some users can see and read the content but cannot easily understand it. This is how we broadened our research interested and starting delving into easy-to-understand language alongside our project partners.
How did the concept of the Erasmus + programme correspond to your project idea? What was the project application process like and how valuable was the support provided to you by your national agency?
We had a clear project idea which fit very nicely in the call and responded to the challenges proposed by the programme and the national agency. We had a group of complementary partners willing to embark on this project. And the proposal was very timely as it also responded to some legislative requirements and clear user needs. So, because of this and also due to our previous experiences in Erasmus + projects, the application process run very smoothly and we had all the necessary support. In fact, I would like to highlight that the support of the national agency was extraordinary at the end of the project when we had some problems due to a cyberattack at our university. They very extremely helpful and quick to suggest solutions. Overall, the EASIT experience has been very rewarding and we are very satisfied with the outputs we have produced. We invite you all to check our platform and to visit our website.