The SALTO Inclusion and Diversity (Education and Training) participated in the Annual SALTO Meeting 2023 from September 25 to 29. The meeting was convened in Paris, with the primary aim of fostering stronger connections between youth, education and training and cross-sectoral SALTO resources centres. Hosted by SALTO Euromed (France) and supported by SALTO Digital (Finland), this gathering brought together around 40 representatives from 11 SALTO centres to discuss ways to enhance the quality and impact of EU programs (Erasmus+ and the European Solidarity Corps) and functioning as a network.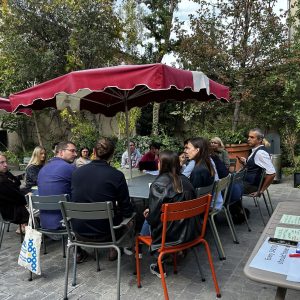 Over three intense working days, we engaged in fruitful discussions, shared experiences, and collaboratively charted the course for the future. The meeting began with a reflection on significant events held within the SALTO network over the past year. In the next 2 days we explored the similarities and differences among various SALTO centres, discussed network advantages and challenges and strategic aspects. We were also discovering opportunities for collaboration among several SALTO centres on the horizontal priorities of the Erasmus+ program. The meeting concluded with a review of next year's network activities.
Stay tuned for more news on the latest activities of our SALTO centre and the SALTO network!
Photo credit: SALTO Euromed